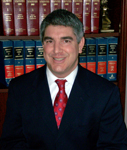 DAVID V. WHITE was born at Shaw A.F.B. near Sumter, South Carolina 1964. He is licensed to practice law in the State of Illinois, and he was admitted to the Illinois Bar, the United States District Court for the Central District of Illinois and the United States Court of Appeals for the Seventh Circuit in 1989. Mr. White graduated from the University of Illinois at Urbana-Champaign with a B.S. in Accountancy in 1986.  He received an Academic Excellence Scholarship to attend the University of Kentucky College of Law and graduated with his Juris Doctorate in 1989. Prior to starting his practice in 1997, upon his admission to the Illinois Bar, Mr. White engaged in the private practice of law with a large regional law firm handling primarily the defense of casualty and negligence cases for insureds of several major insurance carriers. During his career, Mr. White has tried a number of civil cases to verdict before juries in Illinois state courts.  In his current practice, Mr. White routinely represents small business owners and individuals with a wide variety of legal services related to issues they encounter, ranging from organizing a business entity to drafting and negotiating contracts, providing counsel as to real estate issues and business succession/estate planning, and providing representation in front of administrative agencies of the State of Illinois at their offices in Springfield, including but not limited to the Illinois Liquor Control Commission and the Illinois Drycleaner Environmental Response Trust Fund.  He also regularly appears in court for civil trial work, litigation and family law cases.
Mr. White is the author of "When the Wolf Tends the Flock: Clergy Misconduct and Marital Counseling," which appeared in the Illinois Bar Journal.  82 Ill.B.J. 194 (April 1994).  During its publication, Mr. White also wrote the column, "Real Law for Real People," for Springfield Magazine.
David White is a former instructor for the American Institute for Paralegal Studies, and he has been a speaker and panelist for programs of the Illinois Institute of Continuing Legal Education (IICLE) and the Greater Springfield Chamber of Commerce, including "Handling of a Vehicle Crash:  Handling Uninsured and Underinsured Cases," and "Choice of Business Entities."  Mr. White is a Barrister of the Lincoln-Douglas Inn of Courts and a member of the Sangamon County Bar Association (SCBA) and Illinois State Bar Association (ISBA), and he has a high to very high Peer Review Legal Ability Rating from Martindale-Hubbell.
Mr. White is an active leader and participant in a variety of other community and youth program activities.  He served two 4-year terms as an elected trustee of the Springfield Metropolitan Exposition and Auditorium Authority (SMEAA, the convention center board).  Dave White is an appointed member of the Springfield Commission on International Visitors, and he has served as Vice Chairman of the Greater Springfield Chamber of Commerce.  For his involvement, Mr. White was named to Forty Under 40 by the Springfield Business Journal (several years ago), and he is a recipient of the Chamber of Commerce's Chairman's Award for leadership in the Springfield business community.
E-Mail David V. White: DWhite@KWS-Law.com
601 W Monroe St
Springfield, Illinois 62704
Phone: (217) 726-7540
Fax: (217) 726-7543